Eye + Neck Singles Bundle
1 Eye Treatment and 1 Neck Treatment
Individually packaged, single-use treatments.
1 Eye + 1 Neck
Eye + Neck Singles Bundle
1 Eye Treatment and 1 Neck Treatment
$25
Description
Nourishes for visibly hydrated skin

Advanced Firming

Improves skin clarity
Diminishes the appearance of fine lines and wrinkles in 30 minutes or less
Our powerful ingredients responsible for hydrating, protecting and nourishing skin
Pure Hydrogel infused with Active Multi–Peptides.
Palmitoyl Tripeptide-1 works to restore and maintain skin's youthful appearance and strengthen skin support system.
Palmitoyl Tetrapeptide-7 anti-aging, reduces inflammation to the skin and stimulates the regeneration of collagen fibers.
Sodium Hyaluronate is hydrating, easily absorbed, improves skin's elasticity and decrease the appearance of fine lines and wrinkles.
Acetyl Hexapeptide-8, also know as Argireline, is known to reduce the appearance of wrinkles. This potent peptide will stimulate your collagen production as well add needed hydration.
How to use
Remove Soke from packaging.
Peel off glossy liner (the matte, moisture retaining layer on the other side of the treatment is not removable and stays on during use).
Apply and Soke for 20-30 minutes.
Remove Soke.
Use as frequently as desired for rejuvenation.
Consumer
Perception Results
Consumers' experience with Soke was recorded immediately after 30-minute use and 1 hour later.
Responses 30mins
and 1hr later:
100%
felt the eye area absorbed the treatment
100%
loved how their skin felt around the eye area after application
94%
fine lines and wrinkles around the eye are improved
91%
firmer and more elastic skin
88%
fine lines around the eye are dimished
88%
younger looking eye area
85%
wrinkles are filled in
Improved after
only 30min use:
Fine Lines and Wrinkles
Skin Smoothness
Skin Radiance
No Parabens, Sulfates, Phthalates, Silicones, Fragrance and Dyes
Suited for all skin types, genders and age. Our ingredients are carefully vetted, without testing on animals, to achieve the safest formulation.
Pricey but Potent
This is one of those pricey treats for your skin. (Advanced Hydrogel Neck Treatment Mask with Active Peptides). It's lovely to put on and relax. It feels great and plumps up skin. Does it last? Well, no visibly more than other similar masks I've tried, but it makes your skin GLOW with a capital "G" for the night.
Love Soke-ing!
Love Soke-ing! The eye pads are quite amazing! I definitely see a difference after using them. My skin is much smoother. When I'm done with my eyes, I apply the patches to my upper lip and brow area --- I think I see a difference! Thanks for a great feel-good product.!
Love Soke-ing!
Love Soke-ing! The eye pads are quite amazing! I definitely see a difference after using them. My skin is much smoother. When I'm done with my eyes, I apply the patches to my upper lip and brow area --- I think I see a difference! Thanks for a great feel-good product.!
Love!
I use the eye treatment and I love it!
A game-changer
I didn't realize how much I rely on these until I ran out. I work from home in front of a computer all day every day, my eyes always look tired. Even though I'm still in my 20s, I can see my eye area aging faster than the rest of my face. These eye masks are a game-changer. Since I started using them, my eyes look fresh and those little lines where my concealer creases are nice and plump. LOVE! P.S. They're almost invisible, so I sometimes wear my Soke during Zoom calls. Shh!
These are amazing for your crow's feet!
I get botox regularly but I always wanted to find other alternatives. Soke eye treatments are amazing for your crow's feet.
Adore the Neck Treatments
I absolutely adore the neck treatments. Once I finish with the neck, I usually also put it on my forehead for 30 minutes and that has done wonders.
These Treatments are Magical
These treatments are magical. I've already seen the effects just from two treatments.
These patches Stick!
My favorite thing about Soke treatments is that I can do other things without having to worry about it falling down or slipping. It sticks to my face the whole 30 minutes — perfect for when I do yoga or just cleaning around the house.
These actually work!
These actually work! I'm obsessed with these and I'm very impressed. Can't wait to try more!
Eye

The best I've ever used and addicted to my results. My under eyes are smoother, plumper and brighter just love looking at myself in the mirror and will never use anything else. Totally amazing 👍
A MUST!
From the minute you get it, you just know this is a lux brand. These eye masks are a must for Sunday night routine, but not only that. You can use it on the go; travel, so easy and convenient. You need to try this product !!!
Love the Soke Eye!
The most hydrating eye gel patch I have ever used!! Especially in the winter times where the weather is so dry. I find these patches very hydrating and adds glow to my skin routine. Love it and will always recommend it to friends and my clients. Thank you soke beauty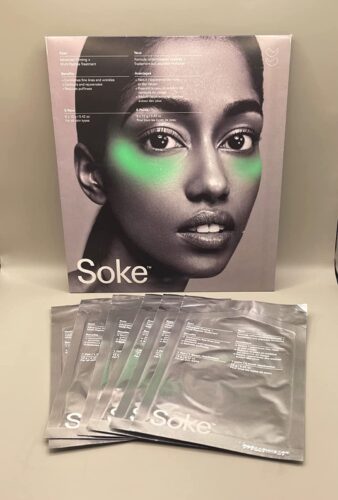 Takes away a bit of the puffiness.
Comes in a pack of 6. Individually wrapped.
Applying this was a bit messy since it's like sticky jelly. Some amount left on the backing film. Applies fairly. Good coverage around the eyes. Even overlaps a bit at the nasolabial folds. You barely notice it after awhile. Almost no residues left upon removal.
It did take away the puffiness and a few lines.
Good product. Specially for that needed lift during special occasions. When aging strikes, you take anything that can make a difference with your looks.
Instant radiance
I highly recommend Soke. It makes you look fresh, gives you smoother skin and instant radiance. I even use it when I leave the house to run errands; I just put on my sunglasses. Most eye patches dry out after 10-15 minutes. Soke can stay on and hydrate your eyes as long as you wish. Love it!
Can't Live without it!
So exciting when a product delivers exactly as promised! I've been using SOKE products since the company first launched and their products are now a regular part of my skincare routine. In under 30 minutes, my skin looks refreshed, more hydrated with a noticeable diminishing of the lines and wrinkles that come with aging. Great product along with beautiful packaging. I highly recommend all 3 treatments.
Brightens and Improves Puffiness and Fine Lines!!

I used this mask for the third time and LOVED it. I am a young mom and had a few sleepless nights leading up to an event. I had dark circles and significant puffiness under my eyes and was not sure how I was going to cover it with makeup. After wearing the SOKE eye patches for half an hour (I keep them in the fridge!) I felt like my lower eyes were transformed!! I looked so refreshed. No more puffiness, no fine lines and improved dark circles. I will be adding these to my regular rotation of skin care and have told all my mom friends they need to use these!
So far so good, feels good
So there is a bit of a learning curve here, for me at least - the eye patches are individually packed, and seem to be a plastic backing with a sticky/slimy side that carries the active ingredients. The first couple were a little bit tricky for me to apply, but once you get the hang of it they are easy to put on. I *think* I can see a difference, but I know that they feel really good, and my skin feels really good afterwards.
I have been using this product for a few weeks now - the lines on my throat are noticeably reduced.
It is very easy to use, you simply apply and leave on for 20-ish minutes. There is a mild tingling sensation that isn't unpleasant, just different.
My skin feels super moist afterwards. Sometimes I use my foreo device to apply red light and heat to allow the product to permeate even faster.
This neck mask is different from the normal ones are use that have serum. There is one side that adheres to my neck and keeps it in place for the 20 to 30 minutes I have it on, and the other side is plastic material which is kind of weird.
So far after using this once a week do you notice a slight tightening of my neck but due to the cost of the masks it would be costly to apply the mask multiple times a week for further improvement.
After peeling the mask off my neck feels moisturized and I'm ready to go on my day.
Treat yourself at home, or on the go as Soke adheres seamlessly to the skin without any sticky residue.