Everything you need to know to make the most out of your Soke Hydrogel Treatments. 
Not all masks are created equal. From clay to peel-off and sheet masks, every type needs a different application method so you can get the best results. Soke is no exception. 
As the first of its kind, Soke's unique extra-large shape with super-rich hydrogel coating does more than a regular sheet mask. We're here to share all of our secrets and tell you how you can squeeze every benefit out of your Soke hydrogel masks. 
How to mask Soke effectively
1) Carefully remove from packaging 
Let's start with the basics. Before masking, you have to get your mask out of the sachet it comes in. And yes, there is a "best" way to remove Soke from the foil pouch. 
With Soke, the side that goes against your skin is our super rich gel (keeps it from sliding off your face). The best way to remove it from its packaging is by slowly lifting one side, and carefully peeling it off the plastic making sure no hydrogel bits get left behind. Trust us, you want all of its peptide goodness on your skin. Be careful that it doesn't fold in on itself. 
2) Apply on clean dry skin 
AM, PM, mid-day, you can Soke anytime. But, your skin needs to be clean and dry before you mask. The hydrogel is super coated with a multi-peptide blend that acts like a powerful serum. You don't want anything keeping that serum from entering your skin. 
Once you take it off, follow up with the rest of your skincare routine.
3) Think of Soke as a treatment and be consistent.
While you can see results from a single 30-minute application, Soke's results are cumulative. Just like a carefully curated skincare routine, with regular use, you'll see better results over time. Use your mask at least twice per week. 
PRO TIP: If you're new to Soke or want to try a more intensive treatment, mask every day for six days. Then, reduce the frequency to once a week. You'll notice firmer, more nourished skin, even skin tone and softer lines and wrinkles.
4) Use after a facial 
Did you know Soke was created by the Aesthetic Director of one of Canada's top plastic surgery clinics? Soke's founder, Amy, uses the masks in her clinic after treatments like peels, lasers, and microdermabrasion to reduce redness and accelerate healing time. Plus, after a facial treatment, your skin is better primed to soak up the peptide and multivitamin blend in Soke. 
Do you have a facial scheduled? Don't forget to take some Soke with you!
5) Use it once, use it again 
If you've Soked before, you know that after a 30-minute treatment, the hydrogel masks are still tacky. Don't waste that juice! Carefully remove it from your chest, neck, or under the eye, and apply it somewhere else to soak up what's left. 
The eye treatment works great on the nasolabial fold, or above the eyebrow to address the 11s. The neck and decolletage masks are big enough to be cut in half and used on the back of your hands or cheeks. Why not?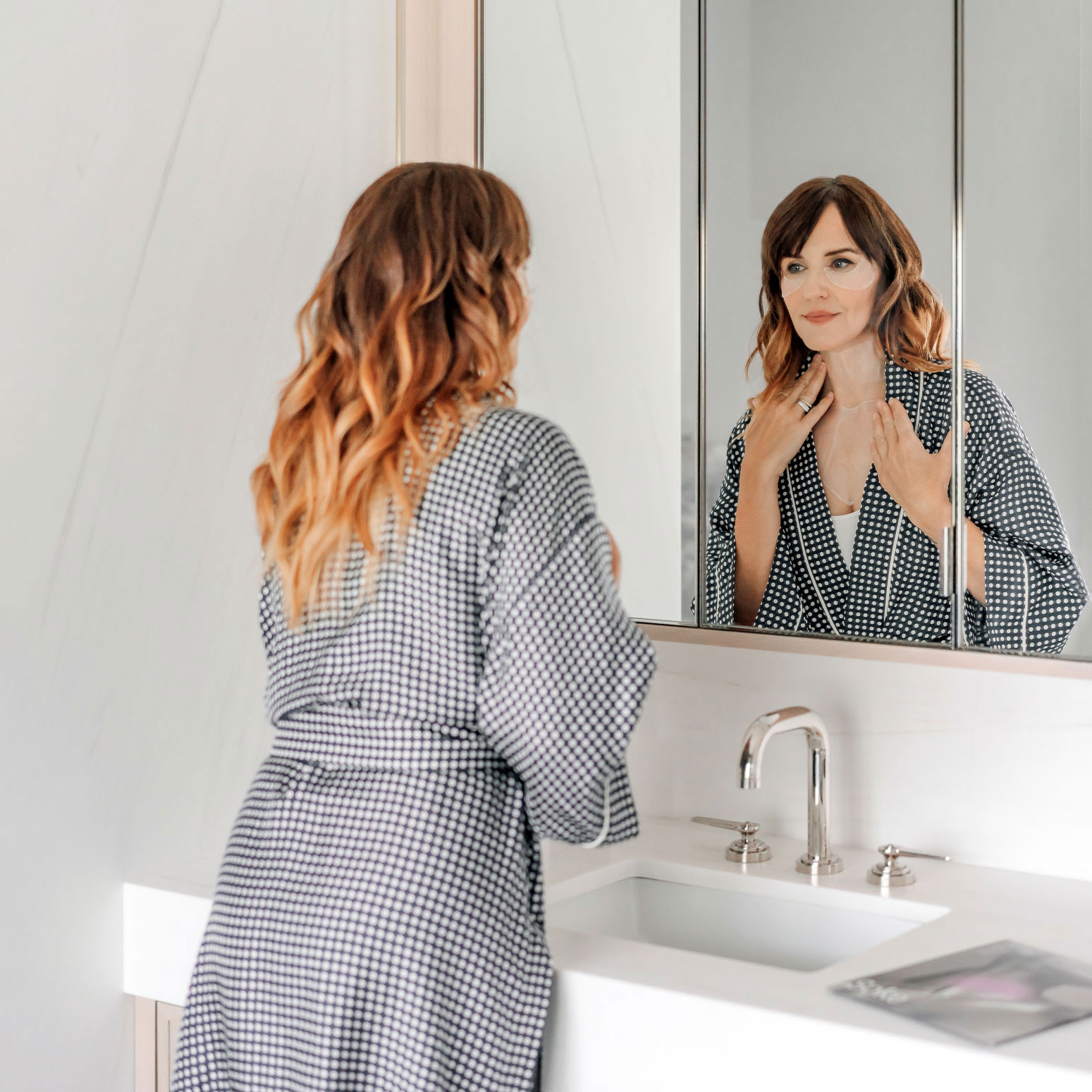 6) Don't neglect your regular skincare routine. 
Soke works best with a well-rounded skincare routine. Think of Soke as a targeted treatment for the areas that show signs of aging sooner and need extra TLC (neck, decolletage and eye contour). Soke does not replace your serums, moisturizer and clinical treatments. 
P.S. Don't forget your sunscreen!
7) Mask and multi-task 
Soke was created to fit your lifestyle, so there's always time to mask, no matter how busy you are. The hydrogel does not slip, so you can literally downward dog while
Soke-ing. The finish is thin and discreet enough for you to run a quick errand or get on a Zoom meeting. You don't have to pause to Soke — unless you want to. 
The beauty of a Soke mask is that it goes beyond a flash mask you use to undo the effects of a sleepless night. It's a long-term treatment. You can easily incorporate Soke into your self-care routine to repair skin damage and prevent premature signs of aging. If you already use Soke treatment masks, why not use them to their full potential? 
"I created Soke because I noticed a need for effective at-home treatments to target the areas that first show signs of aging — neck, eye contour and chest. My requirements were simple: it had to work, and it had to be easy. Soke is a simple way to get the best of a skin treatment with the convenience of a mask."  – Amy Newman Brown, Founder and CEO 
Are you ready to squeeze every benefit out of Soke? Click here if you're ready!